QueryPie Closes $17.75 Million in Oversubscribed Preferred Series Seed Round Co-Led by Atinum Investment and Murex Partners
December 14, 2021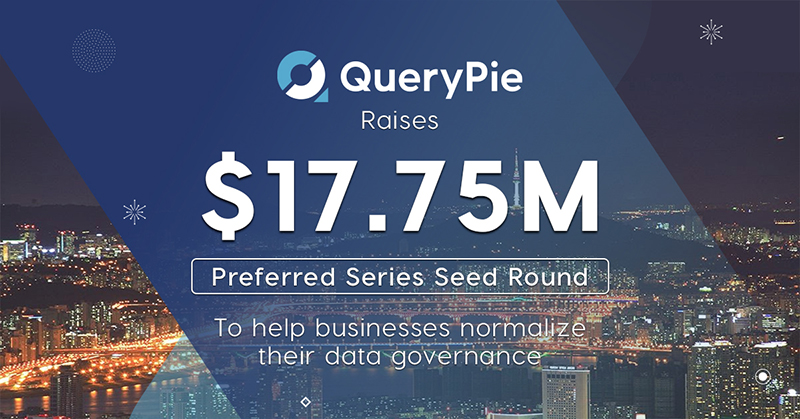 The investment validates a significant market opportunity in Modern Data Governance, allowing QueryPie to meet rising market demand and support rapid customer growth.
San Jose, California, December 14, 2021 - CHEQUER, a San Jose-based provider of the QueryPie modern data governance platform, announced today that it had closed a $17.75 million Preferred Series Seed funding round co-led by Atinum Investment and Murex Partners. KB Investment, Mirae Asset Venture Investment, and Mirae Asset Capital, and Primer Sazze Partners have also joined its existing investors, Kakao Investment and Y-Combinator. The new funding will support QueryPie's continued expansion in enabling businesses to leverage a single, holistic platform for managing data governance, analytics, and compliance for all data types while complying with global privacy regulations, as well as scaling further product development. CHEQUER's total funding round has now reached $20.07 million. Cheuk Kim, Managing Partner at Atinum Investment, and Ohsang Kwon, Co-founder, and Partner at Primer Sazze Partners, will also serve on the board.
QueryPie platform allows data users to analyze, query, and access enterprise data while ensuring that the roles' responsibilities and accountability are clearly defined, managed, and audited via security policies across the cloud and on-premise data architectures. The company's powerful platform enables data-driven enterprises to leverage a unified framework to realize significant benefits in increasing revenues and reducing costs through streamlined data management and governance workflow strategies. Global and domestic companies alike have pressing needs to comply with ISMS, PCI-DSS, and GDPR data-related security regulations in ever-changing development infrastructure environments. Growing data sources in cloud environments and ever-stringent data privacy laws have contributed to the company's growth.
The QueryPie team comprises highly skilled engineers and seasoned startup growth professionals from Kakao, Naver, and SBI. Since its official product launch in March 2020, it has grown by more than 40% per month, innovating data management and its governance tasks for a wide range of organizations, from traditional enterprises to cloud-native companies, including unicorn startups such as Yanolja, Kakao Pay, Kakao Enterprise, Karrot Market, HyperConnect, and Ground X. The company is headquartered in the United States and has a subsidiary in Seoul, Korea.
"We're excited to lead this round of investments after observing an urgent need among businesses for more secure data access control and governance as they transition to multi-cloud architectures to improve data management and utilization. As the number of data-driven organizations continues to expand on the cloud, we expect this sector to grow exponentially as more modern data governance becomes the bedrock of the world of enterprise data. QueryPie is a best-in-class platform that integrates all major cloud platforms and data sources, in addition to those offered by competitors. As investors setting industry benchmarks for identifying market leaders, we are confident that the QueryPie data governance platform is what the industry has been looking for and that Brant, Keis, and Mitch will be the powerhouse trio to drive it forward to success," said Cheuk Kim, Managing Partner at Atinum Investment.
"Above all, we're humbled to be trusted by the industry's best institutions, and we're happy to be endowed with their investment," said QueryPie CEO Brant Hwang. He also added, "Traditional data governance and data silos are no longer viable options. Data exploration and analytics can no longer prevent IT personnel from focusing on value-added tasks. QueryPie ensures that businesses secure their data resources and grants privileged access to more data personas, enabling a single version of the truth across the enterprise. It's fantastic that we're only a few providers of modern data governance platforms. Our goal is to help more businesses maximize the value of their data and contribute to their growth. We intend to use the investment to expand our global customer base as we uncover additional private data security regulatory frameworks and stay ahead of the rapidly evolving world of data and the governance that surrounds it."
About QueryPie
QueryPie (www.querypie.com) is an advanced data governance solution developed by CHEQUER that simplifies data access and manages scattered data sources and data protection policies. QueryPie facilitates easier management and auditing of the user or group-specific data access across the organization through a web-based solution, helping the organization ensure seamless data governance. QueryPie delivers visibility and control over cloud applications, data, and users across multiple databases and cloud data platforms, including relational databases, NoSQL databases, data warehouses, and the Hadoop ecosystem. The solution automatically makes enterprise data available for self-service analytics without causing disruptions or requiring any code changes to applications, databases, or architectures. QueryPie has become an increasingly popular platform for enterprises implementing PII policies and complying with security standards such as PCI-DSS and data governance frameworks, including PIPA, GDPR, CCPA, and HIPAA.
About Atinum Investment
Founded in 1988, Atinum Investment has spent the last three decades as an industry leader in enabling global entrepreneurs to realize their startup dreams of building innovative market leaders and investing in promising startups with an investment philosophy that focuses on the company's intrinsic value. The firm primarily invests in growth-stage and fast-growing startups that are driving market and technology innovations. Atinum's award-winning team manages over $1 billion in assets and has backed 425 companies, including many domestic and international industry icons such as Dunamu, Celltrion, Kakao Games, and Zigbang, among today's most important technology companies. Atinum Investment is based in Seoul, South Korea. Please visit https://www.atinuminvest.co.kr/ for more information.
Contacts:
Brant Hwang, CEO / brant@chequer.io
Mitch No, CBO / mitch@chequer.io